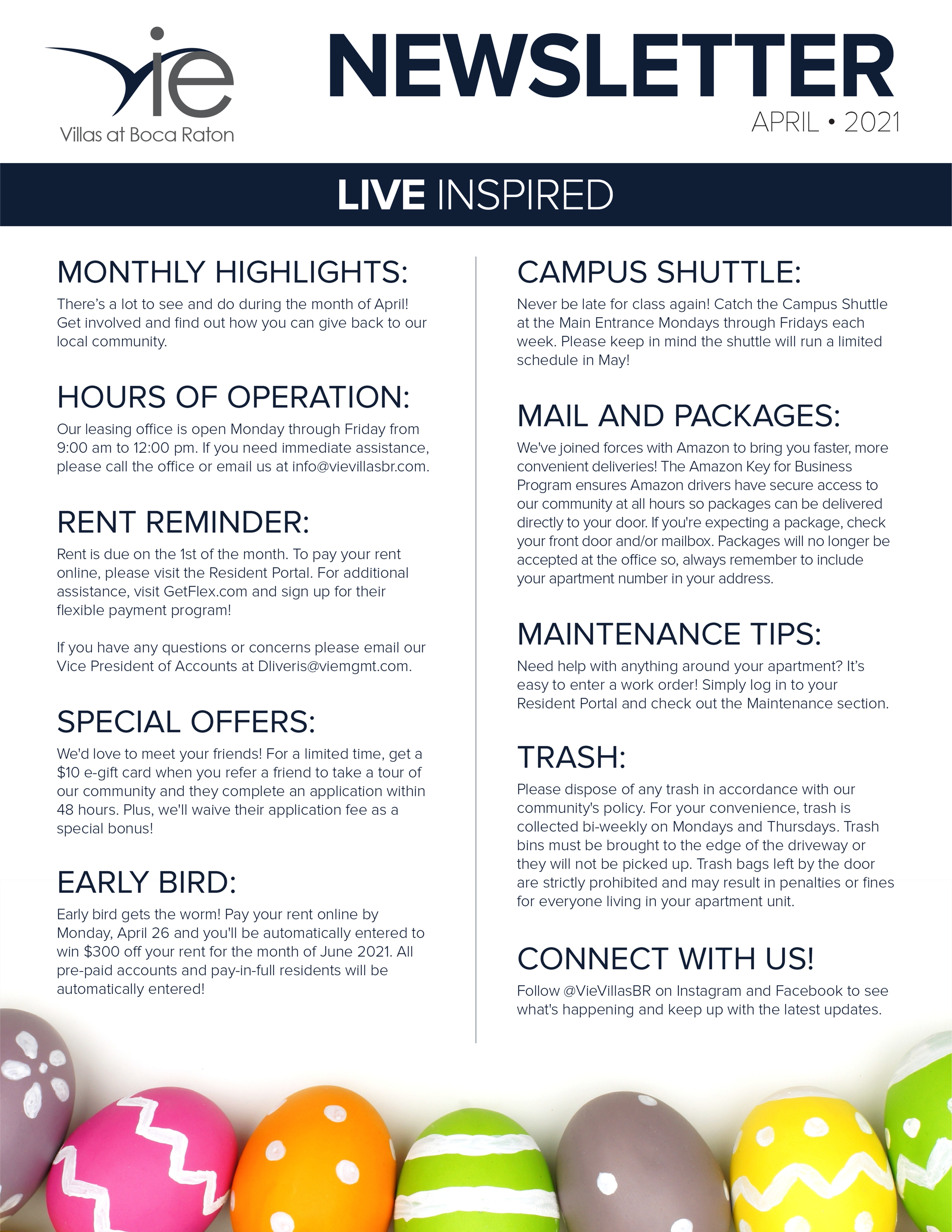 MONTHLY HIGHLIGHTS:
There's a lot to see and do during the month of April! Get involved and find out how you can give back to our local community.
HOURS OF OPERATION:
Our leasing office is open Monday through Friday from 9:00 am to 12:00 pm. If you need immediate assistance, please call the office or email us at info@vievillasbr.com.
RENT REMINDER:
Rent is due on the 1st of the month. To pay your rent online, please visit the Resident Portal. For additional assistance, visit GetFlex.com and sign up for their flexible payment program!
If you have any questions or concerns please email our Vice President of Accounts at Dliveris@viemgmt.com.
SPECIAL OFFERS:
We'd love to meet your friends! For a limited time, get a $10 e-gift card when you refer a friend to take a tour of our community and they complete an application within 48 hours. Plus, we'll waive their application fee as a special bonus!
EARLY BIRD:
Early bird gets the worm! Pay your rent online by Monday, April 26 and you'll be automatically entered to win $300 off your rent for the month of June 2021. All pre-paid accounts and pay-in-full residents will be automatically entered!
CAMPUS SHUTTLE:
Never be late for class again! Catch the Campus Shuttle at the Main Entrance Mondays through Fridays each week. Please keep in mind the shuttle will run a limited schedule in May!
MAIL AND PACKAGES:
We've joined forces with Amazon to bring you faster, more convenient deliveries! The Amazon Key for Business Program ensures Amazon drivers have secure access to our community at all hours so packages can be delivered directly to your door. If you're expecting a package, check your front door and/or mailbox. Packages will no longer be accepted at the office so, always remember to include your apartment number in your address.
MAINTENANCE TIPS:
Need help with anything around your apartment? It's easy to enter a work order! Simply log in to your Resident Portal and check out the Maintenance section.
TRASH:
Please dispose of any trash in accordance with our community's policy. For your convenience, trash is collected bi-weekly on Mondays and Thursdays. Trash bins must be brought to the edge of the driveway or they will not be picked up. Trash bags left by the door are strictly prohibited and may result in penalties or fines for everyone living in your apartment unit.
Connect With Us!
Follow @VieVillasBR on Instagram and Facebook to see what's happening and keep up with the latest updates.