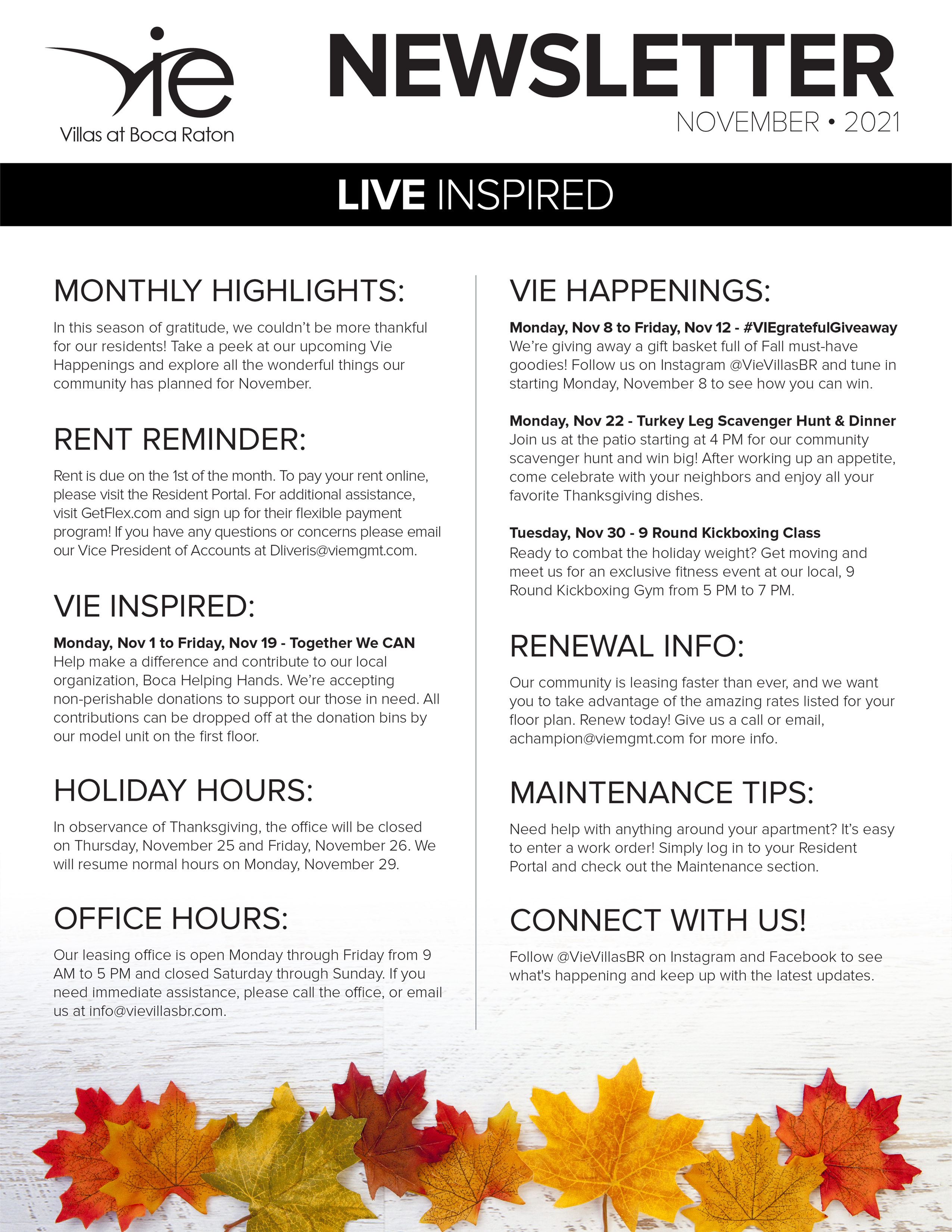 MONTHLY HIGHLIGHTS:
In this season of gratitude, we couldn't be more thankful for our residents! Take a peek at our upcoming Vie Happenings and explore all the wonderful things our community has planned for November.
RENT REMINDER:
Rent is due on the 1st of the month. To pay your rent online, please visit the Resident Portal. For additional assistance, visit GetFlex.com and sign up for their flexible payment program! If you have any questions or concerns please email our Vice President of Accounts at Dliveris@viemgmt.com.
VIE INSPIRED:
Monday, Nov 1 to Friday, Nov 19 - Together We Can: Canned Food Drive
Help make a difference and contribute to our local organization, Boca Helping Hands. We're accepting non-perishable donations to support our those in need. All contributions can be dropped off at the donation bins by our model unit on the first floor.
VIE HAPPENINGS:
Monday, Nov 8 to Friday, Nov 12 - #VIEgratefulGiveaway
We're giving away a gift basket full of Fall must-have goodies! Follow us on Instagram @VieVillasBR and tune in starting Monday, November 8 to see how you can win.
Monday, Nov 22 - Turkey Leg Scavenger Hunt & Dinner
Join us at the patio starting at 4 PM for our community scavenger hunt and win big! After working up an appetite, come celebrate with your neighbors and enjoy all your favorite Thanksgiving dishes.
Tuesday, Nov 30 - 9 Round Kickboxing Class
Ready to combat the holiday weight? Get moving and meet us for an exclusive fitness event at our local, 9 Round Kickboxing Gym from 5 PM to 7 PM.
HOLIDAY HOURS:
In observance of Thanksgiving, the office will be closed on Thursday, November 25 and Friday, November 26. We will resume normal hours on Monday, November 29.
OFFICE HOURS:
Our leasing office is open Monday through Friday from 9 AM to 5 PM and closed Saturday through Sunday. If you need immediate assistance, please call the office, or email us at info@vievillasbr.com.
RENEWAL INFO:
Our community is leasing faster than ever, and we want you to take advantage of the amazing rates listed for your floor plan. Renew today! Give us a call or email, achampion@viemgmt.com for more info.
MAINTENANCE TIPS:
Need help with anything around your apartment? It's easy to enter a work order! Simply log in to your Resident Portal and check out the Maintenance section.
CONNECT WITH US!
Follow @VieVillasBR on Instagram and Facebook to see what's happening and keep up with the latest updates.